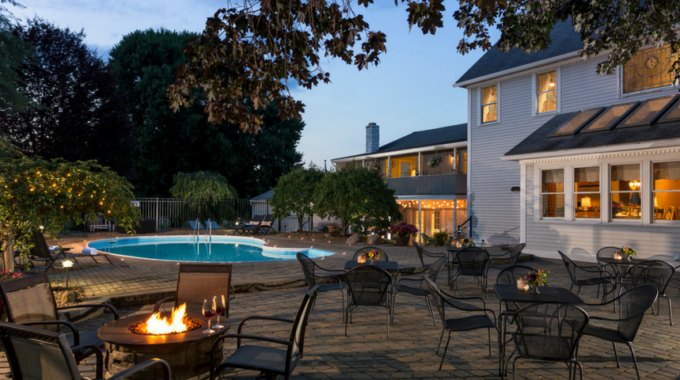 Attention All Price is Right Fans
If you are a Price is Right fan, then you have dreamed about winning their getaway prizes on more than one occasion. This month's business feature highlights a bed and breakfast nearby that is actually going to be featured on the show!!!  Due to the Inn's growing following and distinguished reputation nationwide, the Price Is Right reached out to schedule The Jacqueline House as an upcoming getaway prize.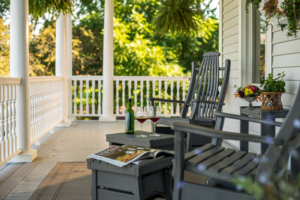 Have you ever pictured yourself sitting on a big white porch in rocking chairs without a worry in the world, visiting local wineries, touring Amish country, or simply relaxing quietly poolside? Then The Jacqueline House of Wilmington is the perfect bed & breakfast for you. Nestled in the Amish countryside of Western Pennsylvania, you will be pleasantly surprised at how much this area has to offer; extensive shopping, a wide range of dining options, gorgeous hiking trails, and a great deal of local charm.
The area is becoming popular for holding unique events such as Tour De Donuts (cycling & donuts), Wine Olympics (team games involving wine), and Balloon Quest (hot air balloons fill the sky).
Check out more events & Details here: http://www.livenewwilmington.com/events/
Murder Mysteries & Mother's Day Tea
The Jacqueline House also rents the entire house and/or their event space as a conference facility, retreat destination, and general event venue. Whether you are planning a baby shower, a graduation party, an executive retreat, or a small intimate wedding, you will be in the best of hands at a beautiful venue.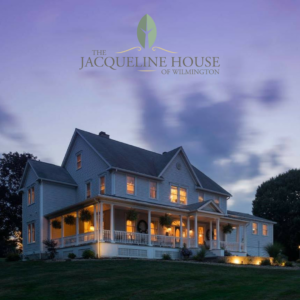 The Inn often hosts their own events as well – next month they are having Mother's Day Tea on Saturday, May 13th. They have also had everything from murder mystery parties to live music to health and wellness speakers.
Tiny Houses Coming Soon?
There are so many exciting things that The Jacqueline House currently offers, but they are continuously evolving with even more plans on the horizon. Recently, they have added in-house massage services for their guests to enjoy and unwind. Can it possibly get any better than this? It just might…
If you have ever seen the HGTV shows featuring tiny houses, you have surely thought to yourself, "wow" for one reason or another. Well, Becky and her team hope to soon extend their services well beyond the walls of the Inn by building some on the property! These will only add to the 5-star experience that makes The Jacqueline House unlike most bed & breakfasts you've heard of.
Remember Dreams Do Come True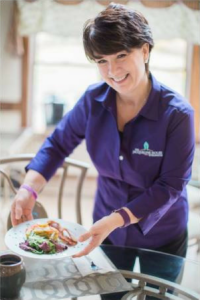 Rebecca Hink is no stranger to traveling for work and began to see the value and potential of a quality bed & breakfast a long time ago. Little did she know that her daydream would actually turn into her reality one day.
"My first experience with a B&B was going on a business trip to Bucks County, and they put us up in a local B&B.  After that, I stayed at a few others and just liked the idea of a 5 star experience – but at a reasonable price.  The Jacqueline House actually came as an option when I wasn't even looking for the opportunity – [my daughter] Katanya moved to New Wilmington, and when we were looking for space for a small business, she noticed that The Jacqueline House was for sale – we decided to look at the space – and upon walking through the doors, I knew it could be a great opportunity." – Rebecca
As the Innkeeper, it is now Becky's top priority to create an unforgettable and unmatched experience to all those visiting year-round. With Becky working alongside her daughter, Katanya Cathcart, and daughter-in-law, Loralei Hink, there is a welcoming atmosphere that without a doubt extends to each and every guest.
So often we forget in this busy and chaotic life to take a minute for ourselves, let alone treat ourselves to a relaxing getaway. The Jacqueline House will undoubtedly create an environment that will leave you refreshed and renewed; more importantly you will leave not as strangers but as friends.
Signs By Sam was fortunate to have the opportunity to make The Jacqueline House of Wilmington sign, and we cannot say enough amazing things about Rebecca, her team, and the Inn. To learn more about how to make your business stand out like theirs give us a call.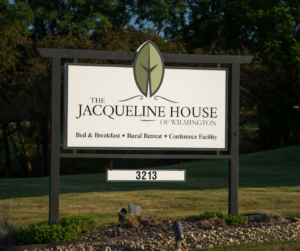 The Jacqueline House of Wilmington
3213 PA-956
New Castle, PA 16105
(724) 901-7059
_________________________
Stay connected with news, events, and everything in between!
Email: innkeeper@thejacquelinehouse.com
Visit their website at http://thejacquelinehouse.com/
Like them on Facebook: @thejacquelinehouse
Follow them on Instagram, Pinterest, and Twitter: @thejacquiehouse
Follow them on Flickr: The Jacqueline House