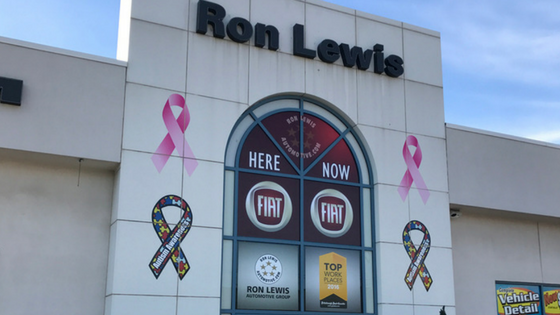 Beaver Falls Roots, Nationwide Name
Have you ever wanted to prove somebody wrong? Truly prove them wrong, but in a friendly competitive kind of way? Today we are going to tell you about a guy who set out to prove someone wrong and succeeded beyond his own wildest expectations – resulting in over 300 jobs and 7 dealerships.  Wow, talk about showing them!
Back in 1970, a guy named Ron was fresh-out of college after graduating from both West Point and Bucknell University.  He was in need of a job and fortunately had a connection to a car dealership through a friend. Soon Ron found himself thrown into what some might call the lion's den – car sales.  It didn't take long for a co-worker to tell him that he wasn't going to make it in the car business simply because he was "too nice of a guy."  To prove them wrong, Ron moved his desk next to the front door and started selling. It wasn't long before he worked his way up the ladder to management and then eventually he made his first dealership purchase, McKnight Road Dodge.
If you are from the area, Ellwood City/Beaver Falls or even Western Pennsylvania in general,  odds are you have heard, seen, or said the name Ron Lewis. That's right – none other than the Ron Lewis of Ron Lewis Automotive Group.
Couple Facts You Probably Don't Know 
Ron happily serves customers not only in PA, but customers from all over the country. It seems unlikely that people would shop online for a car right? That's what we thought, until we discovered just how easy it is- just how easy Ron Lewis makes it. Through a little research and some clicks, people can order their vehicle without having to sit around for all the paperwork to be prepared.  They might not even set foot in the dealership at all – if you live within 100 miles of the dealership you can opt for delivery, but pick-up is also available!
Fact: you can ask them to bring a vehicle to you to test drive. You read that correctly. They will bring a car to you at your home or office to make car shopping as convenient and painless for you as possible.  Fact: they will also come to you just to do an appraisal on your vehicle.  The Ron Lewis Automotive Group surely is committed to making the car shopping and buying experience comfortable and convenient.
Fantasy or Reality, You Decide
If you want a ri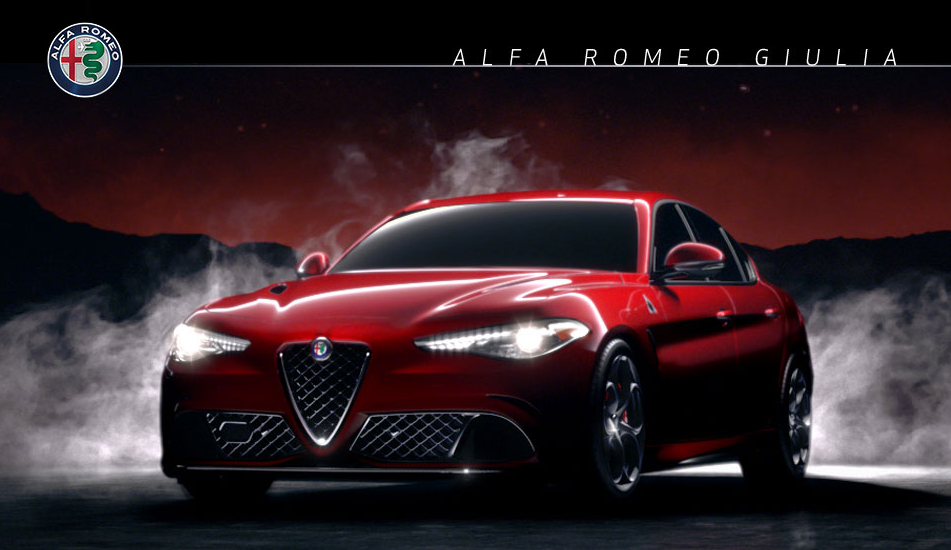 de that is going to turn heads then you need to visit their Souped Up Garage site and learn about what they have to offer. You can interactively "soup up" your fantasy ride or you can drool over their already souped up options.  Specifically looking for a SoupedUp Jeep or Souped up Truck? You can check out these links for more info, but we must warn you first, you may become addicted to playing with all the customization options, and you are likely to fall in love with several vehicles. And we mustn't forget to tell you about the addition of the coveted Alfa Romeo line to the Ron Lewis repertoire – they only dealer of this line of vehicles within 50+ miles!
 A Company Built on Genuine Care
Not only is Ron awesome, but so is his family. We've come to know Gwen Lewis, his daughter (pictured), VP of Online Operations and Marketing. She shares that working for a family business is highly rewarding and that it has been exciting to see the internal growth over the years.
"For me, the most rewarding part is hearing feedback from our employees about why they like working with us, some who have built their whole careers with us, worked with us for decades, and some who have grown through various positions and parts of our business. We're always striving to make the Ron Lewis Automotive Group a positive place to work and grow." – Lewis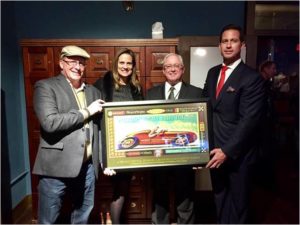 Gwen, who has been with the business for 17 years, gives credit to her Dad for his unmatched experience and industry understanding. Like most family businesses, assuming responsibility wherever it is needed can be a challenge, but also presents opportunities to continuously improve.
After a challenging re-brand in 2013, the automotive group strives to get the word out about their  dealerships in the Greater Pittsburgh area as a part of the Ron Lewis brand.
It is clear that it is Ron Lewis Automotive Group's hope that they provide a positive and unparalleled experience, whether it is the customizing the perfect vehicle for a future owner or simply being a reliable dealership for its employees. Forty years in business was achieved with the values and genuine goals that come along with family businesses.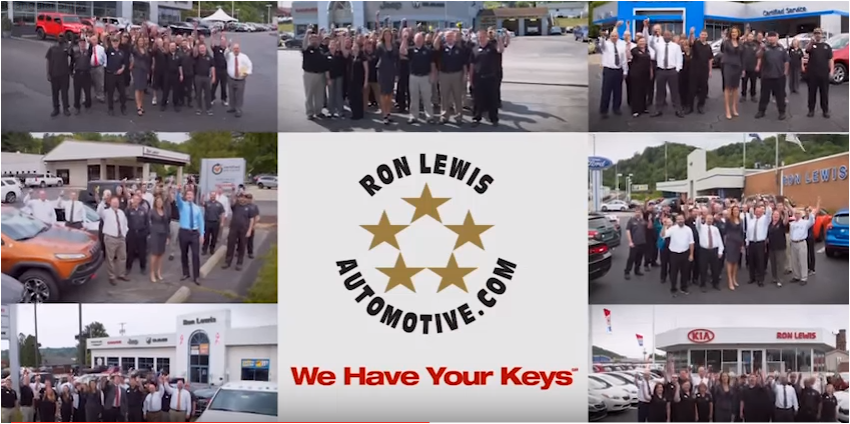 This passion and genuine care also extends to their community, as they are constantly participating in and volunteering for causes bigger than themselves – Youth Sports and Education events, Autism and Breast Cancer Awareness, and tributes to our Navy Seals, just to name a few.
Ron Lewis Automotive Group is a prime example of what it means to come from simple, small town beginnings. These often allow for the most humble of businesses and well respected throughout the community. Signs By Sam has had the privilege to do signage work with the Ron Lewis group over the past several years, and we're proud to say that Ron Lewis' integrity is definitely something to be acknowledged.
Ron Lewis Automotive Group
600 Clairton Blvd
Pittsburgh, Pennsylvania, PA 15236
Hours 9:00AM – 8:00PM
Visit their website: http://www.ronlewisautomotive.com/
Like them on Facebook: @ronlewisautomotivegroup
Find the dealership closest to you:
Ron Lewis Chrysler Dodge Jeep Ram Pleasant Hills
Ron Lewis Ford Beaver Falls
Ron Lewis Chevrolet Beaver Falls
Ron Lewis Kia Beaver Falls
Ron Lewis Chrysler Dodge Jeep Ram Fiat Cranberry
Ron Lewis Chrysler Dodge Jeep Ram Waynesburg
Ron Lewis Alfa Romeo / Pre-Owned Cranberry