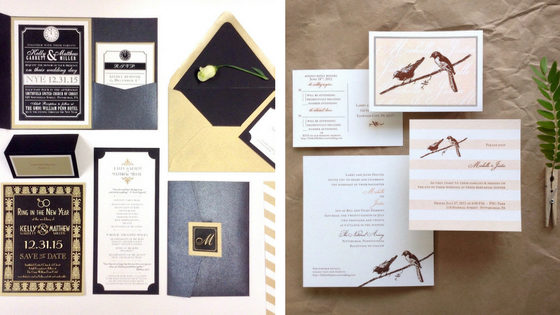 Ellwood City Home to Top Rated Etsy Shop Worldwide
DID YOU KNOW that Ellwood City is home to an Etsy shop that ranks in the top 1% across the globe in terms of sales?! Yes, we are talking a rank of 16,508 out of 1.8 MILLION shops to be precise! If you have traveled around Lawrence Avenue in Ellwood City within the past couple of years, you have probably noticed a new addition to the list of businesses taking over the area; as we near one of the biggest wedding months of the year, it seems perfect to highlight that very addition to the Ellwood City family that has become so popular.
Nestled on Sixth Street, dot & bow paperie, formerly known as Wedding Invitations by The Color Center, is an invitation and stationery boutique specializing in custom wedding design & printing. While only opening their dot & bow doors in December 2015, this business has blown up beyond their wildest dreams. Erin Thomas, dot & bow's lead Wedding Designer and Consultant, and her colleagues, Chris MacDonald (Wedding Consultant) and Katy Hiser (Designer and Production Specialist), really know what it's like to see dreams come to life, which is what weddings are all about, right?!
Dot & bow got its start when they saw a growing trend throughout Ellwood City – people would stop by The Color Center, their local print shop owned and operated by Eric Venezie, and inquire about creating wedding save the dates and invitations; pretty soon, customers were asking for their guidance on everything wedding related – from timelines to phrasing to general etiquette. As dot & bow began making appearances at bridal shows throughout Pittsburgh and clients began visiting them within The Color Center, they saw that brides really valued genuine care over convenience often seen with online printing. With consults frequently becoming a family affair and their ideas and projects in high demand, they knew that was their sign to take a leap of faith; conveniently, the shop space connected to the back of The Color Center opened up, allowing easy access to the digital press and production room; dot & bow knew immediately that was where they were meant to be.
When asked how they came up with the boutique name, Erin replied,
The name dot & bow paperie came from a distillation of what it is we do for people…we help them cross all the "t's," dot all the "i's, and tie up all the details with a neat little bow. Planning all the details of a wedding is a huge undertaking… one of the most precise, time sensitive elements of that planning is the timely creation and distribution of all the printed materials involved: save the dates, wedding, shower and rehearsal dinner invitations, as well as all the precise, time sensitive elements that need to be printed in the two week interim between getting the response cards back and the wedding/reception day. Our goal is to guide our customers through that head-spinning process and make it as easy for them as we possibly can.
One of the unique aspects of dot & bow paperie is that you can meet face to face with the designer and consultant and bring your ideas to fruition, no matter how simple or complex. They all love the creative challenges that come with each client and enjoy seeing the end results; it is these in-person collaboration sessions that make what are often the grueling details fun for both them and their customers. With most of dot & bow clients originating from the Pittsburgh area and its surrounding suburbs, their influence extends far beyond the 412; brides traveling from as far as California and Montana make it a point to utilize their in-house consultation services! Yep, you heard that right!
What makes dot and bow even more special of a company is not just their product and services, but the personalities behind them. Erin (pictured right) is the definition of creative. She enjoys hand lettering, photography,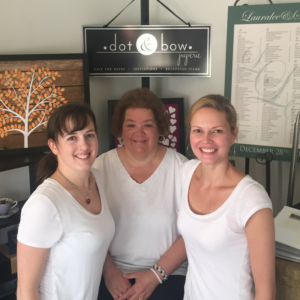 cooking, mixology, writing, and interior design. She and her husband RJ are about to embark on their first major remodel in their new home and is naturally excited to put her design skills to work. Chris (pictured center) loves being out and about, going to restaurants with her husband Gary, visiting yard & estate sales, and watching Pirates games. Katy (pictured left) loves spending time with her daughter Piper, visiting different cities, and going to the gym with her boyfriend Andy. She also shares a passion for everything Art.
With a combined 20+ years in the wedding industry and 45+ years in the print industry, dot & bow paperie has become a trusted business throughout the country and even internationally – and they are just getting started.  Erin, Chris, and Katy are all caring, down-to-earth, and genuinely want to see brides' visions come alive and most importantly make it FUN in the process; therefore, it is no surprise they have become a favorite vendor for countless couples.
Signs by Sam consulted with dot & bow paperie, working with their style and color scheme to hatch the idea for their storefront signage.  The finished product is a 3-dimensional, raised PVC sign with brushed aluminum lettering.  Fabricated in two panels, the installed sign was soon coupled with a black awning and overhead gooseneck lighting for a remarkable boutique-like appeal. We had the honor of creating both exterior and interior signage for the shop, and we couldn't be more humbled to have had the opportunity to contribute to a company that is able to truly (and literally) leave their mark on this world.
 ~ Say Hello to dot & bow! ~
Appearance on July 30th  at The Cavanaugh Summer Sunday Bridal Show
2018 dot & bow Collection Reveal | Doubletree by Hilton Greentree | 11:00am-3:30pm
Check them out at Ellwood's Main Street Car Cruise, Fall Fest, and Let There Be Lights!
Stay Connected:
Visit them at http://dotandbowpaperie.com/
Shop at their Top Rated Esty Store: https://www.etsy.com/shop/dotandbowpaperie?ref=shop_sugg
$5 Off an Etsy Order | Coupon Code: 5FOR40
Like them on Facebook: @dotandbowpaperie
Follow them on Instagram: @dotandbowpaperie
Follow them on Pinterest: dot & bow paperie
235 Sixth Street
Ellwood City, PA 16117
(724) 824-7504