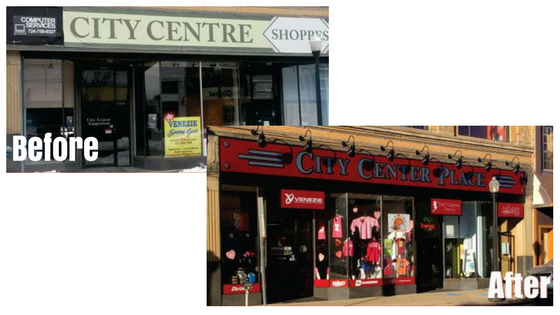 Ellwood City Facing Revitalization, Rejuvenation, & Growth
Signs By Sam has the pleasure of working with businesses of all shapes and sizes across all sorts of industries. We are proud to say that our hometown of Ellwood City is facing an exciting time of revitalization, rejuvenation, and growth. Over the past year, we have seen a lot of businesses sprout up, remodel, and expand – all of which we applaud.
Our next few blogs are going to showcase a series of businesses within a building that has been a part of our downtown since 1932. 512 Lawrence Avenue has become a fundamental part of Ellwood's business district history over the past 100+ years. The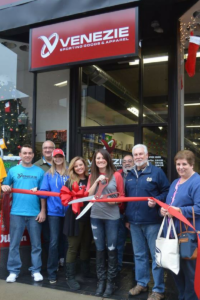 building has seen several name changes and is remembered by many as G.C. Murphy's or The Emporium. Now recognized as City Center Place, the building holds a rooted past with a strong, positive looking future.
Small Town, Big Store
The first business feature in our 3-part series is Venezie Sporting Goods & Apparel. Being one of three businesses in the newly renovated City Center Place, this small business has a big history of its own. Starting out on Portersville Road in Ellport, the original Venezie Sporting Goods was known to be the supplier of equipment, uniforms, and sportswear for many local sporting leagues and athletes alike. After changing hands and their name for a while, Venezie Sporting Goods & Apparel made a huge comeback and opened its doors within City Center Place in April 2015.
When you enter the new store, you will see many of the same characteristics of the original store such as supplying equipment for all types of sports from football to soccer to darts.  However, adding custom services has been a big focus for the new store; the addition of screen printing, embroidery, and heat press services to their list of capabilities has been a huge hit throughout the Ellwood City community and surrounding areas. Along with these newly added custom services, Venezie's has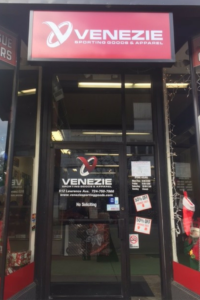 transformed in more ways than one; the building itself has undergone a tremendous amount of work full of remarkable improvements, including the signage on the outside of the building.
"We have completely redone the inside of the Emporium to make it efficient for our production and retail ends. Family owned and operated, our staff has grown to 8 full time and part time employees in one year's time." – Vanessa Venezie, Manager
In the short amount of time the sporting goods store has occupied City Center Place, it has been able to not only spruce up the look of Lawrence Avenue, but it has also been able to do some extraordinary things for the community through helping fundraising efforts, offering discounts, participating in sponsorships, and by making donations. This store truly takes pride in the customers and community that they serve.
"We appreciate the opportunity to work with them on any job big or small."- Vanessa Venezie
So, next time you are looking to make an impact on the future of Ellwood City make sure you shop small by stopping into Venezie Sporting Goods and their business neighbors on Lawrence Ave.
724-758-7966
512 Lawrence Avenue
Ellwood City, PA 16117
Visit their website at http://veneziesportinggoods.com/
Find them on Facebook: https://www.facebook.com/VenezieSportingGoods