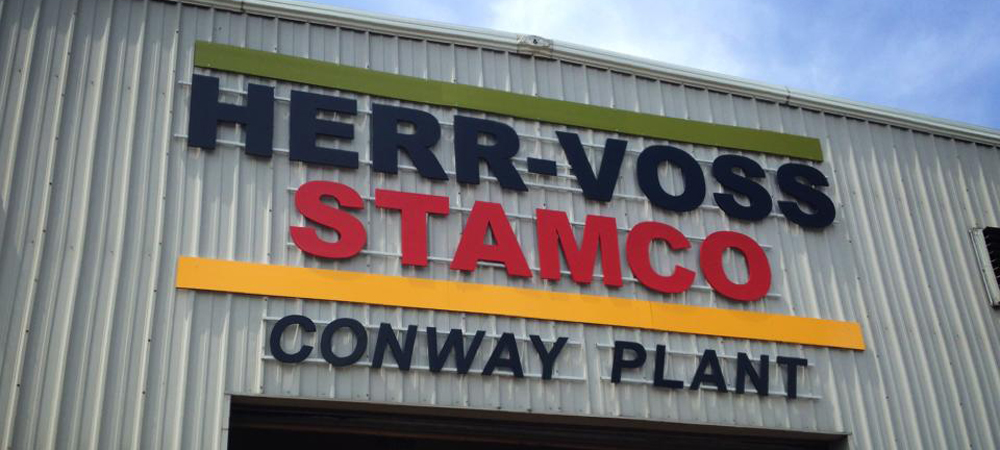 Get your message out quickly and effectively with full color vinyl banner printing. Banners are the ideal solution for a wide range of signage needs, and it's one of the best solutions for spurring impulse decisions.
Vinyl banner printing is perfect for event banners, temporary location banners, directional banners, and other mobile banner needs.  The vinyl is offered with finished hems and grommets for ease of hanging and the 13oz vinyl offers durability for extended use.
Vinyl banners are durable enough for extended outside use, but are also great for interior use such as event banners. Banners can be finished with hems, grommets, and pole pockets.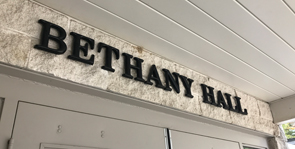 Need identifying information or a business name on your building, but do not want a sign to interfere with the overall structure of the building, then consider dimensional lettering.  Dimensional letters can go on most any surface and come in a wide variety of materials including bronze, brass, metal and plastic.
Dimensional lettering can be made in varying depths depending on the material you choose and there are endless amounts of fonts to choose from.
These custom letters are a good option for storefronts that don't have the space or size for panel or cabinet signs.  Using these custom letters also allow the surface material, texture, and color to play a role in the overall look and feel of your identifying signage.
Freestanding & Pylon Signage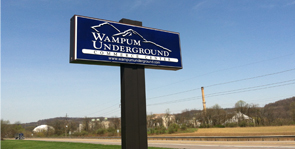 If you have open area outside of your business or looking to elevate and show your business identity in an elevated format, look no further than free standing signage designs by Signs by Sam.
Grab the attention of street traffic or establish your property with a variety exterior signs made available by Signs by Sam.
Whether you need a double-faced, backlit pylon sign (pictured right) or a simplier post and panel display on site, Signs by Sam and its experience staff can provide service each step of the way.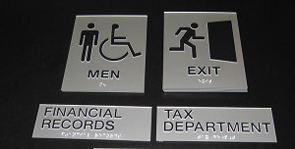 Our safety signs are available in any size, color or shape. Our categories of signs include traffic, parking & street signs, no-smoking signs, fire & exit signs, OSHA & safety signs, security signs, first aid signs, A-Frame, safety banners and many more.
You can get all of the signage you'll ever need to hang throughout your warehouse and facility, including ANSI signs, OSHA signs, warning signs, danger signs, caution signs, notice signs, safety signs and more.
We can create branded signs that blend seamlessly with other visual components and can even brand regulatory signs with your company name and logo for a consistent look throughout your facility.
Regulatory signs are often required for businesses, schools, public areas and construction zones.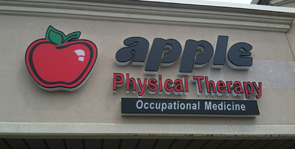 Get your name out there in LED lights! Convey your message to your audience clearly & effectively 24/7. Signs by Sam is experienced in offering rear-lit signage and LED boards with one color, three color and full color capabilities. We carry a wide range of digital solutions to fit your organizations needs and budget.
LED offers your brightest lighting option with longest lifetime on bulbs.  The fixture itself can make an impression during daylight hours and come to life at night for round the clock visibility!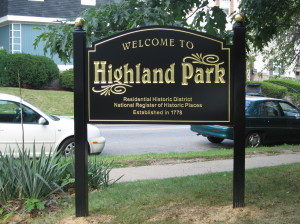 Go big or go home! Affordable panel signage can range from small coroplast campaign signs to larger post and panel signage to help give your business the recognition it deserves. Grab the attention your business or product deserves and inspire a customer to take action! Due to reletively low costs versus high audience visibility, outdoor signage is cheaper than most radio or television advertising.
Larger signs can provide a message a variety of substrates ranging from 4mm coroplast and soft PVC to MDO and ultra-firm polymetal substrate.  U-channel posts can be added to any site sign to help support large and multi-faced signs.
Perfect for real estate, construction, fundraising organizations, or political campaigns, 4mm white coroplast yard signs offers a durable yet cheap solution for bulk purchases.  Buy in bulk and reap the benefits of the small per piece charge with any large quantity order.  Standard sizes are 18"x24" but are available for custom quoting.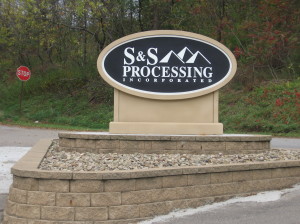 Add depth and dimension to your identity with sandblasted signage.  Routed and sandblasted signs showcase an added dimension and Signs by Sam can provide professionally painted finishing.
Routed signs allow for vastly more elegant and creative shapes than can't be achieved with other sign types.
HDU (High Density Urethane) is a popular choice of substrate for sandblasted signs today and is impervious to insects and rot and unaffected by temperature changes.
A business with no sign is a sign of no business. Never is this slogan more important than at the entry to your place of business.  The variety of exterior signs listed on this page can all be used as retail or storefront signage and many others are available.  The most important fact is your place of business be noticed.  Storefront signage can be installed onto the building structure, adjacent or above, or into landscaping all with the trust and support of Signs by Sam's experienced staff along each step from on-site consultation, quoting, design, and installation.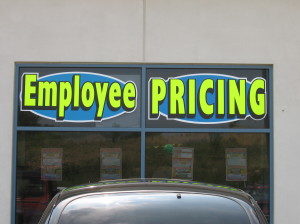 Window signage at your place of business is a cheap, effective way of communicating your business information or message to a broad audience. Window signage is more than likely the first message an inbound customer may read about your business and can even be as simple as business hours, address and phone numbers.
If you are interested in a more fruitful  splash of color, window clings and other windows signage prints are available in full color outputted prints. The window clings are a great piece as they may be removed and re-used over and over again.
Window signs, window clings and window stickers are very common for advertising in fast food restaurants, retail window displays, new construction and remodeling, and other places where the use of window space is possible.
4mm white coroplast yard signs offer a durable yet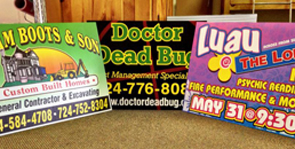 affordable solution for bulk purchases.  Buy in bulk and reap the benefits of the small per piece charge with any large quantity order.  Standard sizes are 18"x24" but various sizes are available for custom quoting.  One and two side coroplast printing is available and standard pricing includes metal yard stakes to accompany standard 18″x24″ coroplast signs.
In need of something larger than a traditional yard sign? Contact a team member to learn about pricing for larger prints on coroplast material.  Additional colors of stock are available as well as custom shapes and sizes for your sign needs.