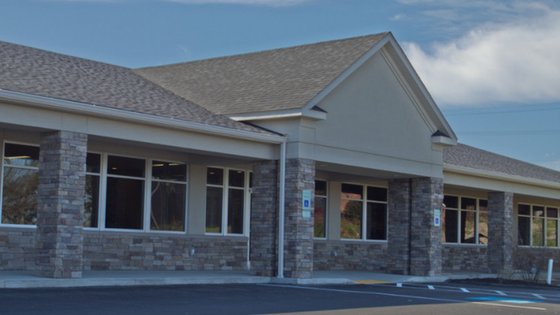 Let's talk about an awesome facility, incredible programs, and some very remarkable people. AIR Physical Therapy & Fitness is full of life, inspiration, and community spirit.  We highly recommend stopping in to check it out sooner rather than later…read on to find out why we are so fond of these guys.
Owned and operated by Dan and Lara Zelch, AIR Physical Therapy and Fitness is an outpatient Physical Therapy clinic, as well as a state-of-the-art Fitness Center. Located on Mercer Road, behind the Franklin Plaza off Route 288, it is conveniently located for residents of Ellwood City, North Sewickley, and Zelienople.
The Beginning
AIR's story began 15 years ago, when they first opened their doors next to Krestals bakery in downtown Ellwood City and were originally called Advances In Rehabilitation. Being strictly a physical therapy clinic, they treated their patients for just a year's time before moving to our beloved Lawrence Avenue. Soon, they found themselves expanding into the Fitness Center world after co-renting with Meyers Fitness (formerly Maximum Fun and Fitness).  In 2010, AIR purchased Meyers Fitness and became AIR Physical Therapy and Fitness Inc. and remained there until 2011. Due to a rapidly growing client base, AIR constructed their new eco-friendly facility on Mercer Road to comfortably serve both physical therapy patients and fitness members under one roof.
One thing that is evident is that Dan and Lara take tremendous pride in their staff. Having currently grown to a total of 5 full time and 20 part-timers, they are extremely proud of what AIR has become with their team's genuine care and concern for their patients and members.  With a "Get Healthy, Stay Healthy" tagline, it is AIR's mission to make sure people are getting the best treatment and maintaining a strong, healthy lifestyle, inside and outside their facility – whether you are a patient, fitness member, or the general public.
When asked what the two love most so far about owning their own business, they replied,
"It's great to see patients and fitness members achieving their goals of becoming healthier, more active, and overall feeling better. We also enjoy seeing our Fitness class members become like family to each other. They watch out for each other and push each other to participate and improve. If you stop in here any morning of the week, you'll see a great group of seniors visiting, laughing, and enjoying being together. It's become quite the social scene! We love that AIR provides a place to visit for people to get together and support each other."
Dan and Lara are extremely invested in AIR, but they are just as active outside of work; Dan, alongside Lara, enjoys watching his kids play sports, and he also likes the outdoors, especially going fishing and kayaking. Lara likes running, training for races, and fundraising for different organizations. Currently, she dedicates a lot of her free time to her new campaign, ROAR (Riverside Outdoor Athletic Renovation), an initiative to raise funds to construct public rest facilities and fieldhouse at Riverside Memorial Stadium.
Did You Know?
AIR is already unique in its own right, doubling as a physical therapy and fitness facility. Most people don't know that over half of their memberships are covered by insurance companies. Talk about no excuses to get yourself to the gym, right?!
Aside from the normal gym equipment, members eagerly take advantage of the wide array of classes available each month- totaling 13 different formats. Meeting the needs of both fitness newcomers and seasoned veterans, their classes are known to keep you engaged and challenged. If you are not a member, they offer free week passes to those interested in sampling their classes or utilizing the gym.
If you have any sports-lovers in your family, you may want to check out their PrepAIR to Play program, specifically designed for athletes looking to enhance their performance through speed, agility, and quickness training. On the physical therapy side, they invite the community every first Thursday of the month for a free consultation with one of their physical therapists.
AIR Physical Therapy and Fitness is dedicated to the growth of Ellwood City, and it is evident with their compassion for the people of the community. Signs by Sam had the pleasure of providing AIR with their main ID signage- an 8′ 2-sided HDU Monument sign, proudly designed, fabricated, and installed by our team. We can't say enough nice things about Dan and Lara and their team. If you have yet to stop in to see them, we encourage you to do so!
Get Healthy, Stay Healthy with AIR!
Physical Therapy                  Fitness Center
   (724) 758-3338                    (724) 752-0802
Hours:                                     Hours:
M/Th: 7am-6pm                   M-Th: 5am-9pm
T/W: 7am-5pm                     F: 5am-7:30pm
F: 7am-3pm                         Sat: 7am- 5pm
Sat/Sun: Closed                    Sun: 10am-3pm
Like them on Facebook: AIR Physical Therapy and Fitness
Follow them on Instagram: @myairfitness
Visit their websites: 
http://airphysicaltherapy.com/
http://myairfitness.com/