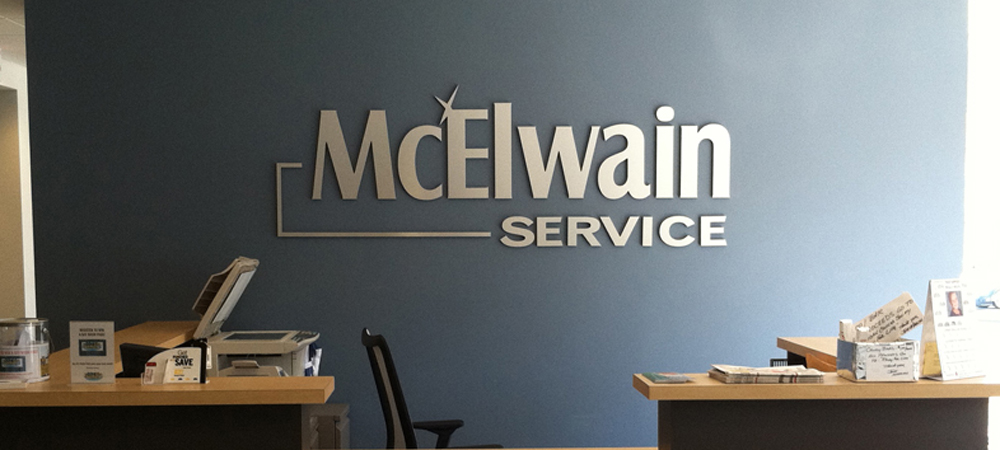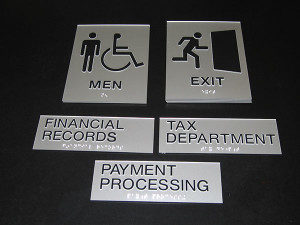 Congress created the Occupational Safety and Health Administration (OSHA) to ensure safe and healthful working conditions for working men and women by setting and enforcing standards and by providing training, outreach, education and assistance.
ADA signs are typically wall-mounted signs that ar
e required for public restrooms, health systems, schools, offices, retail, as well as other industries. The installation height, type of Braille, and location of the ADA signs must comply with the ADA guidelines.
Other office signage needs may include no smoking signs, handicap signs, biohazzard or chemical signs, as well as fire exist, first-aid and other warning signs.
ADA Signs may include braille and raised characters but must also must comply with ADA Guidelines
ADA and wayfinding signs may be made of one piece all metal construction, brushed metal, or plastic and are available in full color.  Custom shapes are available as well as to ensure your ADA signage requirements are not an eyesore in your facility.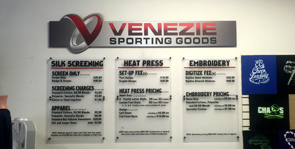 Searching for a unique look designed for interior applications?  Sleek, eye-grabbing display letters are ideal for in-store displays, athletic and professional suites, museums, store fixtures, and other reception area identifications.
Endless font types are available as well as materials for display letter depth including acrylic, foam, and metals. Interior display letters are also available with almost unlimited customization, colors, and a wide variety of gauges and finishes.
Interior display letters can either be stud mounted or double-faced taped to walls.
Get your message out quickly and effectively with full color vinyl banner printing. Banners are the ideal solution for a wide range of signage needs, and it's one of the best solutions for spurring impulse decisions.
Vinyl banner printing is perfect for event banners, temporary location banners, directional banners, and other mobile banner needs.  The vinyl is offered with finished hems and grommets for ease of hanging and the 13oz vinyl offers durability for extended use.
Interior directional signs increase wayfinding clarity for visitors and reinforce brand identity and image throughout a facility. Prompt visitors with directions/arrows to common areas in our facility or list names of tenants and employees for easy wayfinding.
Interior signs can be customized to fit the current needs of your client's facility and also accommodate future growth and changes. Cusom cabinets can be fabricated to expand with growth.
A variety of signage configurations are available, including, but not limited to; flat, curved, landscape or portrait styles, directory signs, suspended or projecting designs. Site directional signage can also service outside needs for parking and campus way-find signage.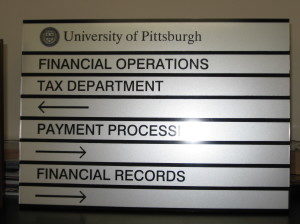 Larger office complexes or business within large commercial building may find directory signage beneficial to helping customers or clients find their way through the office space.
Directory signage can be designed using a multitude of substrates, both for durability and dimensional purposes, to help bring an elegant, informative piece of signage to your business facility.
Directories may list common places within your complex, important emergency way-finding, or other listed items with arrows or references listed with the directory item.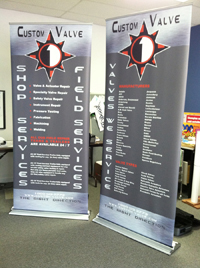 Bring your business identity with you on the road with trade show banners, pop-up banners, table throws and other displays – all perfect for trade shows and other business-to-business functions.
Pop-up banners offer a light-weight and portable solution for your business with all-in-one solutions that include a vinyl banner, weighted aluminum base and carrying case – a perfect combination of versatility, appeal, and affordability.
Full banner displays are great for a larger scale impression and come with everything you need to effectively promote your product at any tradeshow for a fraction of the price of other displays.  Up to six graphic panels allow for a full color message to be displayed with your business.
Literature displays and customized table throws are exceptional pieces to add to your show booth and table throws are fully customizable with your logo and come in a variety of sizes and materials.
Snap frame, spring-snap frame, rolling-base frame, and water-base frame signs also provide various configuration and sizes for show or on-site signage.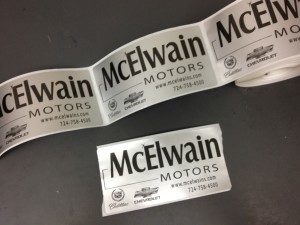 Full color designs can be as big as a billboard or as small as a adhesive label.  Decals and labels can be printed on a variety of substrates for interior and exterior use, identifying purposes or application to equipment.
Adhesive vinyl, removable vinyl, static clings, and magnets are only a few of the labels and decals available.
Ask about catalog pricing for bulk purchases.
Plaques, Trophies, & Awards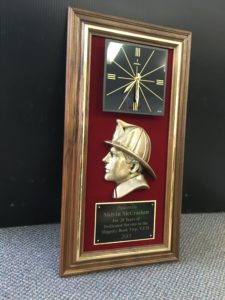 You don't get a trophy for coming in second place and you don't get fully customized plaques without the help of Signs by Sam.  Standard plaques of all shapes and sizes including corporate, photo, and perpetual plaques.
Crystal and acrylic awards, plaques and pins are great for corporate or business recognition. All occasion medals and ribbons help contribute to a special event and academic trophies help celebrate academic achievements.
Custom design ideas are welcomed.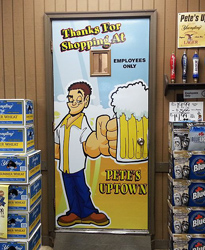 Work with Signs by Sam and its staff of graphic designers to set-up glamorous full color posters or other custom prints to display within your office setting, place of business, or proudly display at home.
Whether temporary or permanent, our custom printing services help transform ordinary surfaces into extraordinary marketing tools.
Full color prints come on a variety of stock including glossy photo paper, durable 3M solutions, and other adhesive materials.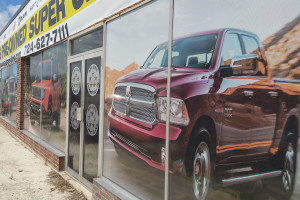 Window signage at your place of business is a cheap, effective way of communication your business information or message to a broad audience. Window signage is more than likely the first message an inbound customer may read about your business and can even be as simple as business hours, address and phone numbers.
If you are interested in a more fruitful, splash of color, window clings and other windows signage prints are available in full color outputted prints. The window clings are a great piece as they may be removed and re-used over and over again.
Window signs, window clings and window stickers are very common for advertising in fast food restaurants, retail window displays, new construction and remodeling, and other places where the use of window space is possible.