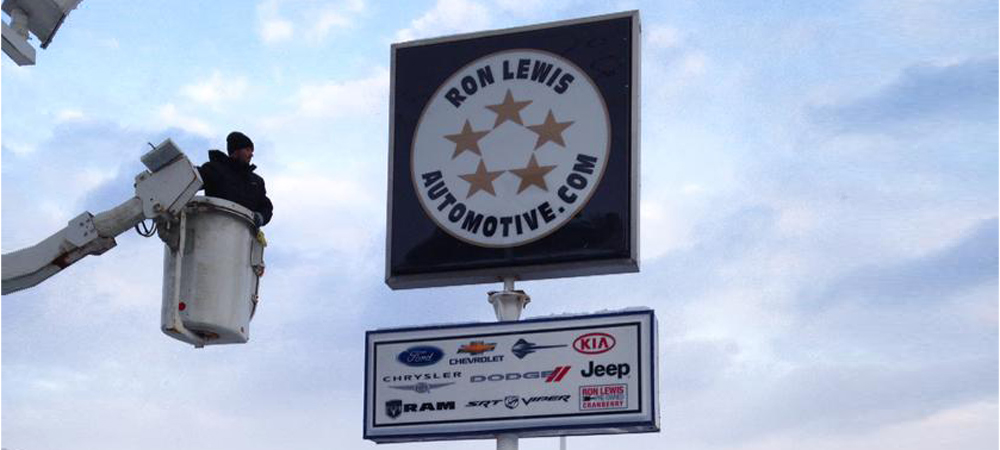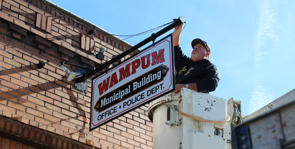 Need to place a sign in an elevated location? Elevated sign services are also available with the aid of Signs by Sam bucket truck that travels to on-site installs and other calls of duty.  Our truck along with our expert engineers and technicians will ensure professionally, quick, and safe installation.
Signs by Sam has serviced hundreds of businesses, both large and small, in the immediate tri-county areas. Signs by Sam and its staff has serviced many businesses just across the Pennsylvania/Ohio border and has traveled south of Pittsburgh for service needs.
Our experienced team can open up consulting with a site visit to evaluate the best free standing signage options and take measurements to ensure sign will meet all requirements necessary.
Quotes on various materials and artwork can be evaluated and free standing signage can be completed with on-site installation provided by Signs by Sam industry experts.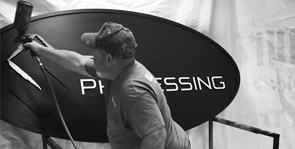 Removal and re-installation services often accompany each other when a business is moving its operating location.  Newly manufactured signage is often installed within weeks of completion (weather dependent).
Electrical maintenance is also available from our staff including light bulb and other lighting replacement to ballast and other electrical troubleshooting.   You do not have to be a Signs by Sam client or have a Signs by Sam manufactured sign to place a call or request sign maintenance.
Stay ahead of your competition and be sure that your lighted sign continues to shine.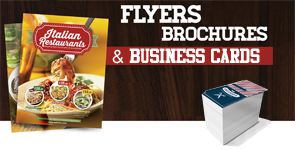 Signs by Sam is a business affiliate with The Color Center (www.colorcenteronline.com), a local commercial printing agency based in downtown Ellwood City, Pennsylvania. Both Signs by Sam and The Color Center operate as division of Thought Process Enterprises, a local leader in design, advertising, and marketing.
Help ensure your logo, imagery, or message remain consistent across all marks of business by using The Color Center as a commercial printing agency for all your business stationery and other printing needs.
The Color Center offers a high-volume digital press for printing, an oversize plotter capable of printing blueprints and other architectural documents, and other off-line finishing equipment to help give your printed piece the polish look it deserves.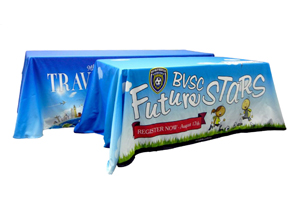 Trade show signage, pop-up banner stands, fabric flags, and full color table throws are great, visual promotional items to help your brand at events or trade shows.
Need additional promotional products for your business, look no further than Signs by Sam's print affiliate, The Color Center, for your promotional needs (promo.colorcenteronline.com). The Color Center is an Advertising Specialty (ASI) reseller and offers its on-line catalog to help search for the perfect promotional piece.
Still need help brainstorming an idea for your next event or show? Stop in or call to speak with one of our design experts who can help focus you on the perfect piece to reach your target audience and market your brand!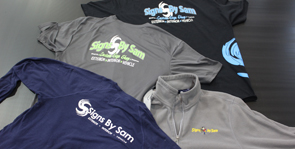 Want to put your custom logo or graphic on apparel? Through our local business affiliate, we offer custom apparel and printable sportswear for individuals, small groups, large business, and non-profit organizations.
T-Shirts, Polo's, Headwear, Outerwear, Bags, and Accessories – you name it, we will do our best to make sure you are outfitted with the most outstanding custom apparel.
For emergency services, government, and other street departments, we offer custom high visibility safety gear, helping gear your team with premium safety gear solutions for all workers.  Our safety products can protect you from workplace accidents and the discomforts and dangers of hot, cold or rainy environments and quickly be branded with a identifying business name or graphic.