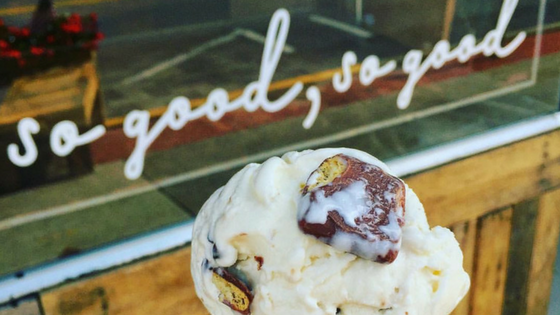 Success Never Tasted So Good
Certain people can light up a room, but these two entrepreneurs have the astounding ability of lighting up an entire town; one smile at a time, one event at a time, one business at a time. It is no secret that Scott and Caroline Golmic's passion and energy has been contagious over the last few years here in Ellwood City, but now- they offer us ice cream! What more could we, a small town, ask for!?!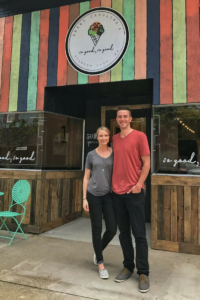 The recent opening and months of success at Sweet Caroline's in EC's business district is not a surprise by any means. Scott and Caroline are no strangers to the business world… Caroline recently celebrated her 8-year anniversary with Aflac, which she still runs alongside the shop. Scott is a professional cameraman for NFL Films & Root Sports and is present at many Steelers, Pirate, and Pens games (lucky guy)!  They are just as wise as they are friendly.
While they keep busy with Sweet Caroline's and their respective careers, they remain actively involved with their church and, of course, give back to the community, heading many Ellwood City Chamber of Commerce sponsored events (Caroline is currently President of the Chamber). Talk about a dynamic duo! Speaking of events, The Ellwood City Fall Fest is right around the corner, September 30th!
If you've never met these two love birds we suggest that you do and soon. In their spare time, they can be found hanging out with family and friends, traveling, and spending time with their beloved dog, Lila.  They have a real "sweet spot" for this community and this community continues to fall in love with them year after year.  They are truly making a difference in our small part of the world and we are so thankful to have them in our corner.
About Sweet Caroline's
Lawrence Avenue was filled with excitement on May 19th when Scott and Caroline opened their doors for the first time (literally filled with excitement, as the line was out the door and down the block, attracting visitors from all over). Decorated with vibrant colors and a rustic flare, Sweet Caroline's is sure to catch your eye from the outside and leave you captivated from the moment you walk in.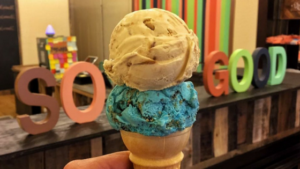 What makes this ice cream shop unique is not only the appearance, but even more so the products. Offering locally made ice cream from Windy Ridge Dairy (Fombell, PA), fresh-pressed juice made in house, and fresh roasted coffee from Two Rivers Artisan Coffee Works (New Castle, PA) make the shop appeal to and satisfy all sorts of cravings. Scott and Caroline wholeheartedly believe in supporting local and even dedicate an entire wall in their shop to showcase local artists' work, which they named the Sweet Boutique. They are also dedicated to making sure everybody has an equal chance to enjoy their products. Having to live with dietary restrictions firsthand, they make sure a gluten-dairy-processed sugar free ice cream option is always available in their daily line-up.
Why Sweet Caroline's
The town's current revitalization movement was a key factor in bringing Sweet Caroline's to life. Last year, the couple discussed wanting to see Lawrence Avenue busy again and dreamed about making a difference. In the midst of these conversations, the space where Blocher Jewelers used to be located opened up; they felt this was their calling. When asked how Sweet Caroline's came about, Caroline replied,
Scott and I bought 507 Lawrence Avenue in May 2016. We weren't sure if we were going to try and recruit a business to fill the storefront or if we were going to start our own business. Either way we had three goals for the business. We wanted something that had evening hours, would increase pedestrian traffic, and was family friendly. One evening we walked out of the storefront and saw cars lining Lawrence Avenue. Parents were waiting in their cars for their children to finish their lesson at Leaps & Bounds Gymnastics studio. That's what triggered the idea of an ice cream shop. We could give the parents a place to wait and the family a place to make memories on Lawrence Avenue.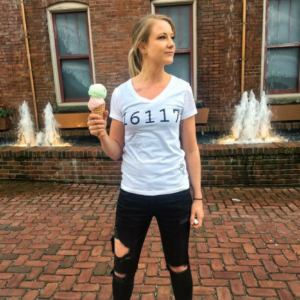 Owning their own business has allowed the two of them to add their own creative touch. They have re-purposed items from Blocher's to preserve the building's history, have a "pay it forward" board that allows people to pay for others in advance, and have hosted live music for people to enjoy outside. They have even created branded apparel (locally made at Venezie Sporting Goods) and started a #whereintheworldis16117 campaign; with this campaign, may we add that one of their tshirts (like the one pictured) was seen on the Today Show?!
It is Sweet Caroline's mission to be "a place for life to happen," as Golmic describes. Family outings. An after-school spot. Whatever the case may be, it is their intent to bring people together and celebrate everything "so good, so good" about Ellwood City and the opportunities that await throughout the community.
Signs by Sam has had the pleasure of getting to know and collaborate with Scott and Caroline a lot the past few years. It was our honor to be part of their story by creating their exterior signage and window graphics. 
Sweet Caroline's
506 Lawrence Avenue
Ellwood City, PA 16117
(724) 824-3623
__________________
Stay Sweet
Like them on Facebook: @SweetCarolinesEC
Follow them on Instagram: @sweetcarolinesec
Follow them on Snapchat: SweetCarolineEC