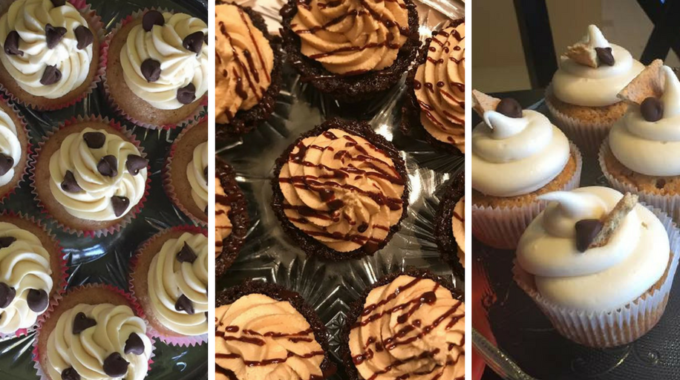 Sweet Beginnings in Ellwood City
     FREE Mini Cupcakes June 3rd
Lawrence Avenue just keeps getting sweeter and sweeter –  we don't know about you, but we couldn't be happier about it! This revitalization movement in EC is real, as the town is steadily changing and growing as people turn their dreams into their reality.  This is no exception for best friends turned entrepreneurs, Kristen Campbell and Katie Weisz.  They are the two masterminds behind the much-anticipated new business opening right next to the Ellwood City Community Plaza on June 3rd, The Sweet Shop. As part of the celebration, the duo will be giving out FREE mini cupcakes for visitors to try throughout opening day (8am-?).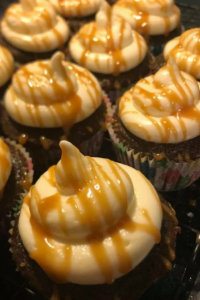 The Sweet Shop is a specialty boutique offering cupcakes, cookies, ice cream, and candies. Their daily cupcake options will always include the staple flavors of Vanilla, Chocolate, Carrot Cake, and Red Velvet, along with a gluten free option and gourmet cupcake flavor of the week!
Life is What You Bake of It
Katie and Kristen first became acquainted through their husbands' hectic work schedules at Inmetco; an international metals reclamation company also located in Ellwood City. It was not long after that they became best friends, frequently traveling together to Disney and countless family nights spent together with their husbands and kids.
An idea that started out as "fun to talk about" quickly turned into a reality for the two when a space on Lawrence Avenue became available literally the day after discussing their dream in depth. This was a sign; the location would not be vacant for long, so they had to decide and fast. Knowing that this revitalization movement would not only provide perfect timing for a new venture, but it would also provide an opportunity to become even more involved in the community that has provided so much for their families.  These two local moms are smart, talented, compassionate, and extremely determined to fit the needs of this community. They are baking their way into Ellwood City's heart!
Where Everybody Knows Your Name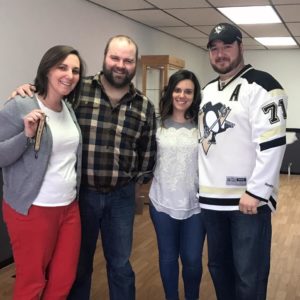 Born and raised in the North Sewickley area, Kristen and her husband, Tom, are high school sweethearts from Riverside. Their two little ones, Bella & Darren, are now attending the same school in which they first met. They are excited to see another part of their life take flight in the supportive community that they have always called home. Katie (originally from Ohio) and her husband, Dale aka Dew (an Evans City native), started their life together in Ellwood 9 years ago, now happily raising their two kids, Garrett & Sofia, in our budding community.
Seeing firsthand how important a tight-knit community can be, it is The Sweet Shop's hope to become a place where people can gather, converse, and celebrate all the little things in life with family and friends – you know, all the sweet things. With plans to stay open during the evening, for local events, and host events of their own like birthday parties, Kristen and Katie have made it their priority to bring the community together and connect in more ways than one.
When asked about what they loved most (so far) about owning their business, they immediately give credit to the people of Ellwood City.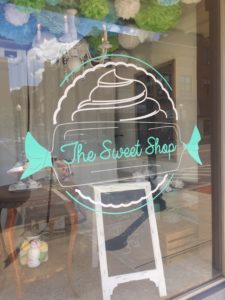 "The positive feedback we have received from the community has been out of this world, and we aren't even open yet! It has really solidified what we already knew- the people of the Ellwood City area want to see this town succeed! Being able to start our business from scratch, just like our cupcakes and cookies, has been an enriching experience. Getting to make decisions and see this idea that was just a dream a few short months ago come to life has been remarkable. We have also met many local entrepreneurs that have helped us along the way without hesitation." 
There are a lot of good things that come from living in a small town, and if one thing is evident, it is that business owners in Ellwood City have nothing but heart and a drive to succeed. In The Sweet Shop's case, it is their plan to stay local not only to be a part of the revitalization, but more importantly because this community is home.
Signs By Sam was thrilled to have the opportunity to make the window graphic displaying The Sweet Shop's logo on their front window. We could not begin to say enough sweet things about Kristen, Katie and their cupcakes – you'll just have to stop in and try them for yourself! To learn more about how to make your business stand out like theirs, give us a call.
You can't buy happiness, but you can buy cupcakes and that's kind of the same thing…
The Sweet Shop
526 Lawrence Avenue
Ellwood City, PA 16117
(724) 584-9668
__________________
Want to stay up to date with everything sweet?
Like them on Facebook: The Sweet Shop
Follow them on Instagram: @thesweetshopec