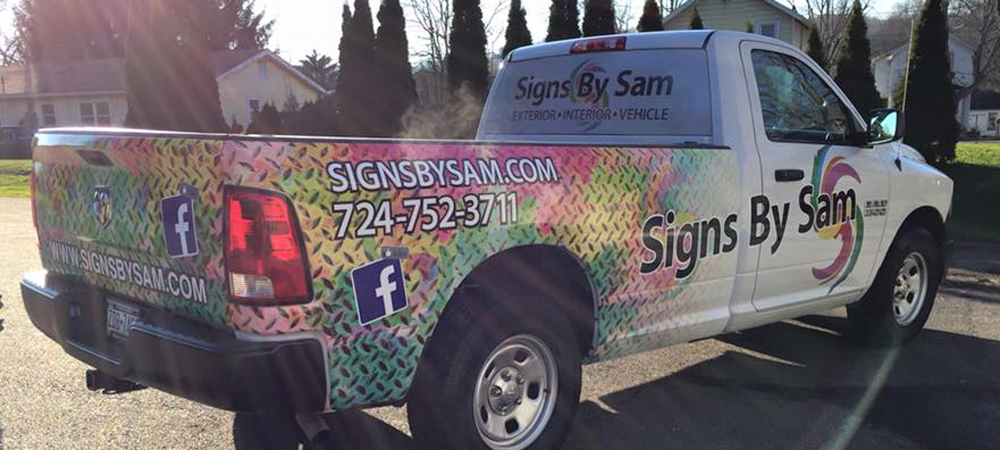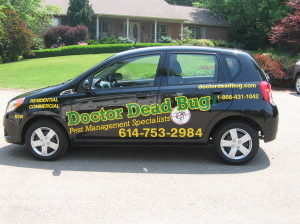 Signs by Sam is an industrial leader in vehicle graphics and lettering, offering decals and lettering across a multitude of vinyl colors and finishes.  Signs by Sam has provided vehicle lettering to area emergency vehicles and has worked with area EMT and fire departments for over twenty years.
Whether your organization has a single car, a dozen vans, or a fleet of trucks, custom vehicle graphics turn your vehicle into a mobile billboards at all hours of the day and night helping reinforce your brand.
Vinyl lettering is also available in a reflective stock perfect for emergency vehicles. We have hundreds of fonts and dozens of colors to choose from, so you can be sure to find the perfect vinyl lettering for your needs.
Want to do-it-yourself? Signs by Sam's self-adhesive vinyl lettering works great on cars, trucks, vans or any other smooth vehicle surface. It comes pre-spaced and is easy to install. We can also make custom decals with your logo or graphic. Prints are provided with transfer tape and ready to apply.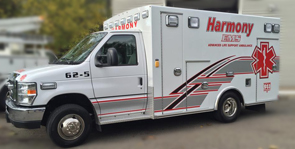 Police car graphics and decals, fire truck decals and graphics, and other EMT decals are the most important way for any agency to display its presence within their community. The design of any emergency agency is based on creative identity and clean finish.
With over 7,200 sq ft of space at Signs by Sam's facility, there isn't a vehicle that cannot be accommodated into our garage for vinyl decal, lettering or graphic applications.  Along with new emergency vehicle lettering, Signs by Sam also offer decal and lettering removal for vehicles that need a fresh look.
Our team is experience with sedan, SUV, truck, and ambulance layout that fit and fill your design needs and specifications.  Blending reflective graphics and marks with standard vinyl colors helps your vehicle standout at all hours and reflective chevrons are a great tailgate finish for larger emergency vehicles.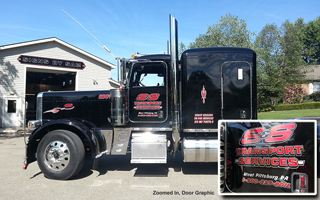 Turn an asset you and your business already own into an effective marketing campaign with custom, branded fleet graphics.
At its deepest level, branded fleet graphics demonstrates a corporate image and shows how seriously you take your business and your customers' loyalty.
An eye catching yet simple design will make the best impression – one with your company logo and pertinent information.
Vehicle branding is often effective for insurance companies to food and beverage companies and many other industrial trucking capacities.
Generate company driver excitement with fleet graphics and have your proud drivers send a powerful brand message to your community in their daily travels.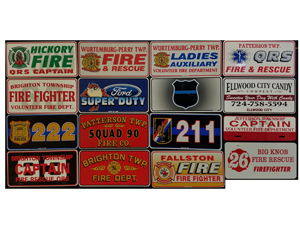 Looking for a custom license plate to proudly display your department logo, information, or a simple license plate of information?  Signs by Sam provides full color, reflective and non-reflective license plate design and printing services.
Whether small quantity or larger quantities for a fleet of vehicles, look to Signs by Sam to fulfill your customer license plate needs. Display your custom license plate on your company vehicle or display your plate on your personal car or vehicle and take to the road with pride!
Minimum spend may need to be met to complete small order license plate orders.
Not necessarily ready for a full vehicle wrap or custom vehicle graphics? Take a small step into transforming your personal or business vehicle into a mobile billboard with custom vehicle magnets.
Full color magnets come in a variety of sizes and shapes and be 'stuck' to any ferrous material. Common sizes include 12″x18″, 12″x24″, and 18″x24′ finish sizes. Additoinal sizes, shapes, and large quantity orders are available for quote.
Vehicle magnets are printed on on durable magnet roll and finished with laminate coating to ensure longevity on your car, truck, or semi-truck (pictured)
Magnet designs can come as custom as necessary or act as an enlarged business card with business logo, name, and contact information (and vice-versa, going from magnet design down to commercial printed business cards)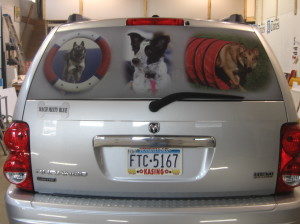 Custom window lettering or graphics signage is an easy way of communication business information (name, number, website) or full color graphics of your services to every passing vehicle on the roadways.  Our 1.5-mm perforated print with a release liner for decals shows the print on one-side, but is transparent from opposite side.